Shelly Quinn
Branch Manager and Construction Specialist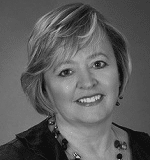 About
Originally from Rochester, NY, I have lived in San Antonio, TX, and Atlanta, GA before relocating in 1999 to the Lake Norman Area in North Carolina. I began my career as a Mortgage Loan Originator. For the past 10 years, I've been a Branch Manager and am a certified Construction-Permanent Specialist, assisting home buyers, builders and realtors with financing new construction, renovations and teardowns.
I have always been known for my strong commitment to customer satisfaction and my knowledge about the various mortgage products available in today's market. I am a trusted advisor to many realtors and other referral partners and also maintain an extensive database of past and current clients. My education and work experience in the accounting field provides the skills needed to assist self-employed borrowers with their tax return analysis as well as the much-needed attention to detail that this industry requires.
Currently, I reside in Denver, NC with my husband of 35 years and together we have two adult children. I am a member of Cowan's Ford Country Club. I am a past President of my B2B network group and enjoy belonging to two book clubs. My favorite things are taking my dog for a walk, reading a good book, tending to my garden and spending time with my family and friends.
I have chosen Silverton Mortgage as my employer because they have the same fundamental philosophies. Together we will make your dream of homeownership a reality!
Our Loan Programs
Buying a home can be overwhelming. There are so many financing options, offered by so many different banks, lenders, and brokers. Don't stress yourself out trying to find the perfect product and perfect rate on your own – that's what we're here for! Contact us today to start a conversation about which loan option is right for you.
All Loans
Conventional
A Conventional Purchase is a "traditional" mortgage with as little as 3% down payment, requiring no upfront mortgage insurance fees and cancellable monthly private mortgage insurance. Both Fixed Rate & Adjustable Rate Mortgage options are available.
FHA
If you're a first-time homebuyer and your credit score isn't great, an FHA loan may be a great option for you. FHA loans allow for as little as 3.5% down and have options available for buyers with credit scores as low as 600.
HomeReady® Mortgage
With as little as 3% down, reduced mortgage insurance, and no minimum contribution from the borrower, this option is perfect for first-time homebuyers who may have a relative helping with the down payment.
Jumbo Loans
Sometimes bigger is better when it comes to your dream home. For those who require higher loan amounts, our Jumbo Loan can help you enjoy low payment options.
All Loans

Office Address
9525 Birkdale Crossing Drive, Suite 203, Huntersville, NC 28078