The History of Manufactured Homes is a Rich One
Originally created from a need for convenience, versatility, and affordability – the mobile home was the first type of modular housing to hit the market. It has since become an iconic staple in the United States.
The first known mobile home was on the Outer Banks of North Carolina. When the tide would rise, horses were used to move the home further on shore. In the 1900s, as the automobile gained popularity, the mobile home evolved. By the 1940s, trailers averaging 8 ft. wide and 20 ft. long were being pulled by cars. This made it easy for families to easily move as needed to follow work opportunities. Fast forward to the end of World War II as men were coming home from war by the masses and the need for affordable housing was greater than ever before. This is when the modular home industry really began to flourish, making way for the manufactured home.
Even today, the terms "mobile home" and "manufactured home" are often used interchangeably. However, there are major differences between the two. The biggest being that a manufactured home is attached to a foundation and cannot be moved. To better distinguish the two, The National Manufactured Housing Construction and Safety Standards Act of 1974 was created. This act sets standards regarding design and construction, body and frame requirements, thermal protection, plumbing and electrical, fire safety, and energy efficiency. Intended to improve the durability and quality of manufactured homes, it is the only federally-regulated national building code. However, as manufactured homes were similar in appearance and often set alongside each other, common to that of trailer parks, "mobile" and "manufactured" remained synonymous with each other. Fast forward to the present and these preconceived ideas are steadily changing, bringing a fresh outlook to the world of manufactured housing.
The New Class of Manufactured Homes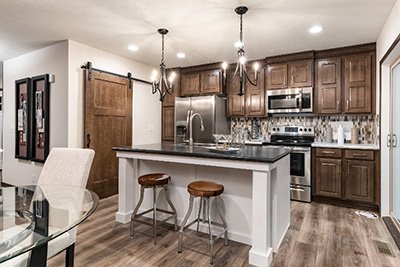 Today, manufacturers are creating homes that are more similar to their site-built neighbors. With features such as higher roof pitches, attached garages, spacious decks, interior drywall, and upgraded kitchens and bathrooms – the world of manufactured housing is finding its footing. Best of all, a variety of aesthetic features makes it possible to purchase a home that best matches your style. You're partial to a farmhouse with exposed natural wood? No problem! From stone backsplash in the kitchen, backlit bathroom mirrors, and a skylight in your bedroom to stainless steel, energy-efficient appliances – the manufactured homes of today offer countless options designed to match your personalized style.
Best of all, these top-of-the-line homes can blend seamlessly into most neighborhoods and offers the potential for long-term appreciation. These are not the manufactured homes of the past. In fact, the future is brighter than ever. Gone are the days of aluminum siding and rectangular-shaped structures as the desire for affordable yet classic housing takes off.
Affordable and Flexible Financing with MH Advantage®
With the Silverton Mortgage MH Advantage® Program, affordable housing and flexible financing is possible. With higher loan-to-value (LTV) ratios, up to 97%, less money is required up front. This means keeping more in your pocket. There is also the ability to combine HomeReady™, HFA Preferred, and other mortgage programs. You don't have to be tied to any one specific program. Instead, choose the one that works best for your needs while still utilizing MH Advantage® benefits.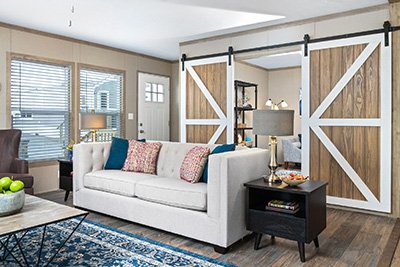 Borrowers also enjoy low monthly payments and reduced interest rates compared to most standard MH loans. These options provide affordable financing for Americans who previously thought that homeownership was beyond their reach.
In addition, appraisers enjoy the ease and assurance that comes with the manufacturer sticker that identifies an MH Advantage® home. This helps homebuyers, lenders, and others involved in the financing process identify that the home includes the features consistent with MH Advantage® requirements.
With Silverton Mortgage, you'll also receive the superior customer service that we've come to be known for along with a streamlined underwriting and origination process designed to minimize the time from loan origination through closing. With a consistent 98% satisfaction rating, Silverton Mortgage is committed to helping our clients achieve their dreams. We credit our years of award-winning success to the trust of our clients and the hard work of our team.
The Future is Bright
The journey to a better Manufactured Home has arrived and Silverton Mortgage is proud to be a part of helping families dreams come true. MH Advantage® makes homeownership a reality for potential buyers by offering an affordable, conventional mortgage for manufactured housing that meet standards more similar to site-built homes.
From humble beginnings, today's manufactured homes have it all – features that match your taste, curb appeal that rivals traditional homes, and affordable financing. That means that nothing is standing in your way of becoming a homeowner.
For more information visit our MH Advantage® page or apply online.